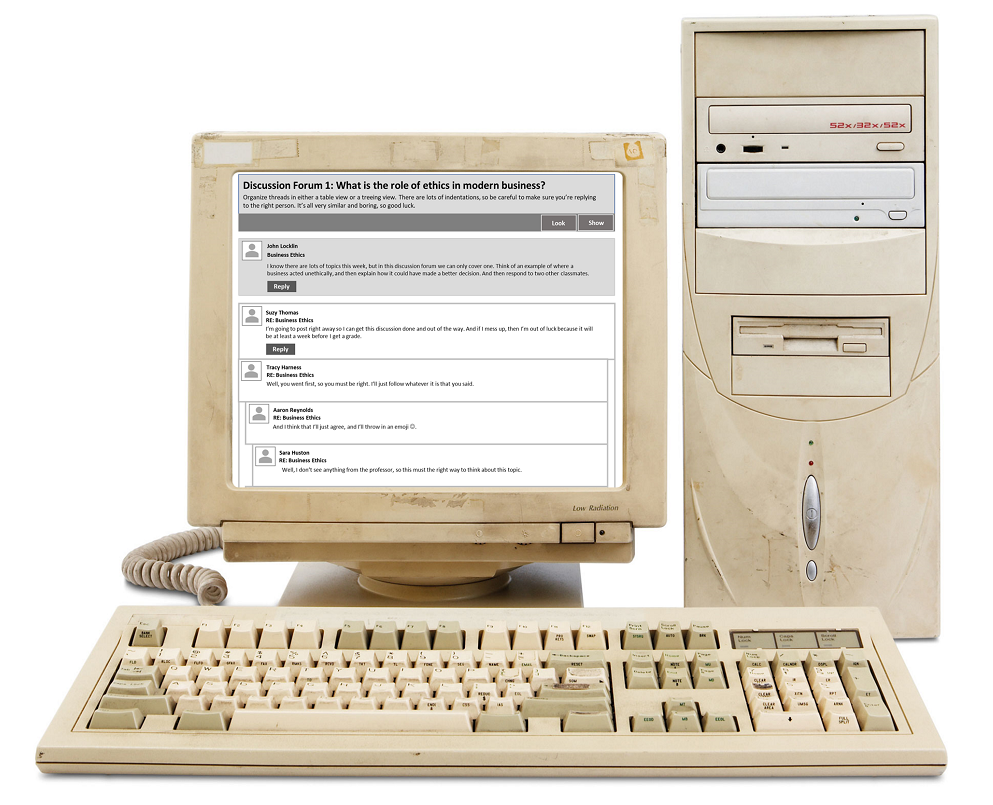 The elephant in the online classroom
The standard LMS discussion forum has become the "busy work" of online courses.
There. We've said it. It's out in the open.
A relic from days gone by, it is consistently rated the least effective component of online learning.
confusing at best
The standard LMS discussion is a jumbled mess of branching posts - making it hard to follow and even harder to learn or teach.
mind-numbing at worst
Students and faculty alike approach online discussions as an activity to "get through" as opposed to an activity to "get something out of."
(k)Nudging Discussions
Leveraging technology, not defined by it
How It Works
A real-time solution for online discussions
About the App
Student Experience
Instructional Support
Content Creation
The Theory
Bringing the community of inquiry theory to life
cognitive presence
The discussion prompt is the catalyst that gets students to think, collaborate, and explore. With multiple prompts, the (k)Nudging app empowers students to choose where to lead with a main post, and where to engage with a reply, allowing them to construct their own learning pathway.
social presence
The crux of an online discussion is creating a strong connection between students and faculty. It can't be a "one and done" process. The (k)Nudging app's distinctive UI, helpful notifications, and real-time measurement of student interactions keeps the entire class motivated and on track.
teaching presence
Teaching online is an incredibly time-intensive activity, and no one can be online all day, every day . . . or can they? Whether using our library of (k)Nudges or their own unique (k)Nudges, faculty can establish a teaching presence in their course even when they can't be present.
F.A.Q
Some answers to commonly asked questions
Do students need to set up an account to use the (k)Nudging app?

No. Students simply click the link in their class to launch the (k)Nudging app. It's as easy as that.

Can I make my own class-specific (k)Nudges for students?

Yes. You can create custom (k)Nudges for any topic within a discussion. Otherwise, students will see a series of (k)Nudges selected from our library of over 400 unique writing/thinking tips and suggestions. You can also turn (k)Nudges off if you do not want to use them in a discussion.

How does the real-time, automated scoring work?

Students earn points for making posts (Contribution), reading posts (Immersion), getting replies from classmates (Influence), and making posts free from grammatical or spelling errors (Writing Mechanics).

Are the scores automatically transferred to the gradebook?

Yes. Scores are passed back to the gradebook automatically as students complete actions eligible to earn points in a discussion.

Can I customize the scoring rubric?

Yes. The scoring rubric is completely customizable. You can adjust the weighting and criteria for each component of the rubric.

Does the (k)Nudging app work on a phone?

Yes.The (k)Nudging app is fully mobile compatible. Students simply log into the app for their LMS and click on the link in their course to launch the (k)Nudging app. The (k)Nudging mobile app is in development.

Is the (k)Nudging app compatible with our Learning Management System?

The (k)Nudging app is an LTI-based application. This means that it works with any Learning Management System that is LTI compatible (e.g., Canvas, Moodle, Blackboard).

Does the (k)Nudging app support deep linking?

Yes, it's easy to pre-create content for course duplication and for use in future terms.
Get Started
Contact us to try out (k)NudgingDQ in your LMS
Location:
Salt Lake City, Utah, USA